Are Basketball Shoes Good for Tennis? 7 Things to Consider
Wearing the wrong shoes while playing a sport can lead to injuries. So, are basketball shoes good for Tennis? The quick answer is no. Basketball shoes are designed for forwarding movement and stopping abruptly, while tennis shoes are designed for lateral movement. Wearing basketball shoes on the tennis court can put unnecessary stress on the knees and ankles and cause joint pain. So if you want to play your best game of Tennis, leave the basketball shoes at home.
In the game of Tennis, players need to have quick feet and make sharp movements. Some may think basketball shoes are made for immediate actions and jumping. They would be suitable for Tennis. So, there are a few reasons why they could be beneficial. First, basketball shoes have a good grip, which can be helpful on slippery tennis courts. They also tend to have thick soles that provide extra support and cushioning. Additionally, many basketball shoes are lightweight and comfortable, which is also crucial in Tennis.
Can basketball Shoes be Used for Tennis?
Are Basketball Shoes Good for Tennis? yes or no? you can use basketball shoes for Tennis depends on a few factors:
So, if you want to buy just one pair of shoes to play both sports, you can choose basketball shoes.
Can you Play Tennis in basketball Shoes?
The answer of the question are Basketball Shoes Good for Tennis is yes, but with a few caveats:
So while you can technically play Tennis in basketball shoes, it's not advisable if you want to perform your best. For the best results, stick to playing Tennis in shoes designed specifically for the sport.
Find Basketball Shoes that you Can Use for Tennis
Basketball shoes provide cushioning support and traction for the wearer. They are made with various materials, including rubber, leather, and synthetic. Some features that make basketball shoes suitable for Tennis are their cushioning, support, and traction.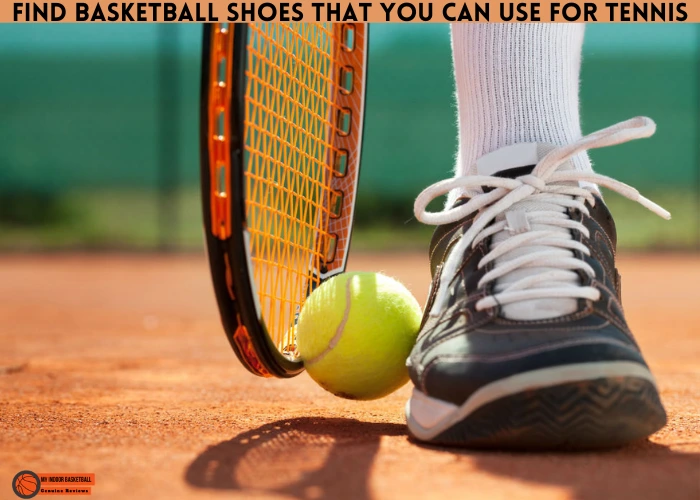 When looking for a basketball shoe to use for Tennis, it is crucial to find one that fits well and provides the proper support and cushioning. The shoe should also have good traction to move around the court efficiently. Many different brands and styles of basketball shoes are available, so take some time to try on a few extra pairs before making your final decision.
Types of Basketball Shoes
Basketball shoes come in different types of builds, each with its advantages.
Low-profile shoes are the lightest and offer the most flexibility, making them ideal for quick movements on the court.
Mid-profile shoes offer more support and stability, making them a good choice for players who need extra ankle protection.
High-profile shoes are the heaviest and most supportive, making them a good choice for players who need extra cushioning and impact protection.
So, which type of basketball shoe is best for you? It depends on your playing style and what you need from your footwear.
Comparison of Basketball Shoe Features for Tennis:
When playing a sport such as a game of Tennis, it is essential to have the proper footwear to prevent injury and play at your best. Here is a comparison of some key features to consider when deciding.
Type of Sole
The first thing to look at is the sole of the shoe. Tennis shoes typically have a herringbone or diamond-shaped pattern on the bottom, which offers good traction and helps you make quick starts and stops. Basketball shoes usually have a smoother sole with tiny grooves or ridges for gripping the court. This can provide less traction and stability when playing Tennis, leading to slipping and injury.
Cushioning
It turns out basketball shoes can be pretty helpful for tennis players. The extra support and cushioning these shoes provide can help protect the feet and ankles from the impact of all the running and jumping in Tennis.
Material of the shoe
Basketball shoes are typically made with leather or synthetic leather, which is not ideal for playing Tennis on a court because it does not provide enough grip. Tennis shoes, on the other hand, have a herringbone pattern on the sole that helps players move quickly and change directions easily.
Durability
Basketball shoes are generally more durable than tennis shoes, which is vital for players who are hard on footwear. They also provide good ankle support and have a comfortable fit, making them ideal for long matches. While they may not be the best choice for everyone, basketball shoes can be a good option for tennis players looking for durable shoes.
Weight of the shoe
Basketball shoes tend to be heavier than tennis shoes, slowing down players and making them tire more easily. Some may be too heavy or bulky for comfortable use on the tennis court.
Soles and Traction
Regarding Tennis, most people recommend using shoes with good traction. This is because the court surface is usually slick, and you need all the grip you can get to prevent slipping and falling. While basketball shoes have good soles and traction, they are not always the best for Tennis. This is because they are often too bulky and make it challenging to move around on the court.
Stability
Basketball shoes do not provide stability necessary for quick movements and directional changes common in Tennis. Additionally, the soles of basketball shoes are designed to grip a hardwood floor, making it more difficult to move on a softer surface like a tennis court.
What to consider before buying basketball shoes for Tennis
Consider a few issues when deciding to buy basketball shoes for tennis. First, Tennis requires quick starts and stops, as well as lateral movements. A good tennis shoe will have extra support in the ankle to prevent rolling. They will also have a herringbone pattern on the sole to provide traction when stopping and starting. Basketball shoes also have extra support in the ankle, as well as a herringbone pattern on the sole. However, they are not always made with quick starts and stops in mind.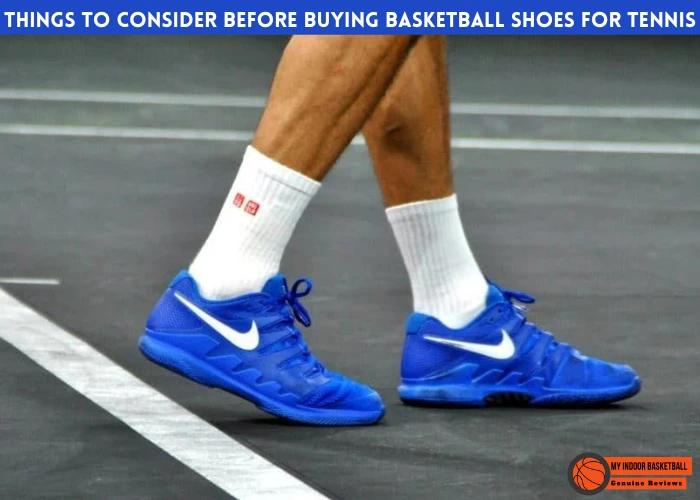 Dissimilarity between tennis shoes and basketball shoes
Basketball and tennis shoes may look similar, but they are pretty different. Basketball shoes provide support and traction for quick movements and stops, while tennis shoes are designed for lateral movement and sliding. Basketball shoes also have more padding to protect the feet from the hard surface of the court, while tennis shoes have less padding to allow for more flexibility.
Types of Tennis Courts
When it comes to Tennis, the type of shoes you wear can make a big difference in your performance. The type of court you will be playing is the main factor to consider when choosing a tennis shoe. Court type is the most crucial factor when choosing a tennis shoe. There are three main types of courts: clay, challenging, and grass.
Clay courts are made of crushed stone or brick and have a loose surface. This type of court requires a shoe with good traction to prevent slipping.
Hard courts are made of concrete or asphalt and have a firm surface. This type of court requires a durable shoe with good lateral support.
Grass courts are made of natural or synthetic turf and soft surfaces and need a comfortable shoe with good traction.
Are Basketball Shoes Good for Tennis? Our Last Suggestions
Basketball and Tennis have different shoe requirements. But, You may be wondering if you can wear basketball shoes for playing Tennis. Basketball shoes are not typically suitable for Tennis. They can be too bulky and make it difficult to move laterally. However, some people prefer to wear them because they provide extra support. Basketball shoes might be a good option if you only play Tennis occasionally.